We decided to do something different at the MuseWeb 2019 conference in Boston this April. How many times have you been to a conference and learned a lot, but, by the time you got home, weren't able to put it into practice? We wanted to flip the script. We wanted to hack away in the exhibit hall, slinging code and fixing websites on the fly. Enter the Happiness Bar – an opportunity for free help for anyone who wanted it. Our goal was to make it super easy for conference attendees to implement changes that would make their site faster, more secure, and more accessible.
Over three days at the conference, our squad of developers worked with attendees from large and small institutions. Most sessions started with a digital therapy session. What were their current aches and pains? What made them unhappy when they looked at their website? What wasn't working? What were simple things, that if fixed, would make their lives better? An audit of the site was performed, using Google's free Lighthouse tool. This rated the site on speed, security, and accessibility with specific issues that could be addressed. Alley recommends everyone try out Google Lighthouse on their own site – it is a great way to quickly assess and find easy to solve issues.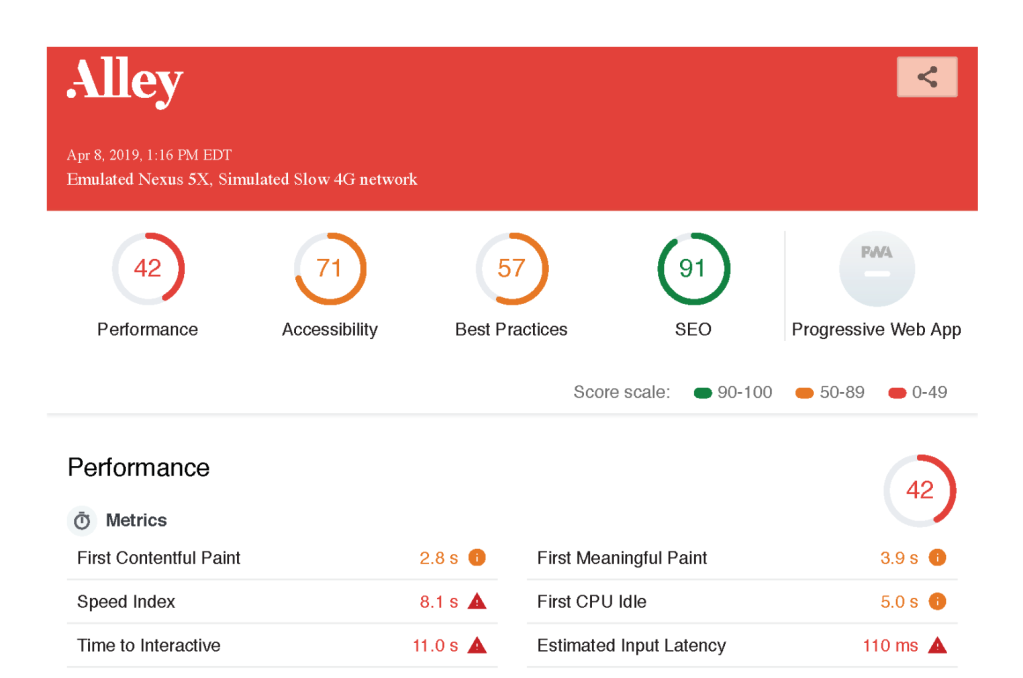 After the analysis we dove straight in to fixing top priority issues first and then slowly working down the list. When we could access the code underlying the site, we made changes right there. If we couldn't, we created and emailed a specific, itemized list of what should be fixed when they got back from the conference. Afterwards, we ran the Lighthouse scan again, confirming that our changes were successful and the scores had increased.
The Happiness Bar was a huge success for us. We wanted to take a chance to try something new that would be helpful immediately to those that might not have the time, capabilities, or finances to fix their website. We've stayed in touch with a few of the people we worked with. One even responded:
I wanted to thank you all again for your help at MW. You all did for me what would have taken a couple days for me to do.
We're happy to be hanging out with museums at MuseWeb 2019 (and other events!) and helping institutions of all scales with their digital issues. We're so excited to see everyone next year in Los Angeles, and lend more help where we can.