Alley built a digital publishing platform that powers 42 NBCUniversal television stations across the U.S. and Puerto Rico.
The new platform provides a curated experience for online news audiences, with an updated editorial interface that makes it easy for newsrooms to publish content to the web, mobile apps, and on-demand digital products.
NBC and Telemundo audiences can find news, real-time weather forecasts, consumer and investigative reports, and entertainment programming on their local station websites. The new system helps local news reporters keep their audiences informed with rapid updates.
The Context
NBCUniversal Owned Television Stations looked to us to build their web publishing platform, create a training program that would reach hundreds of journalists across multiple newsrooms, migrate ten years of content, and support the organization's transition from their legacy content management system (CMS).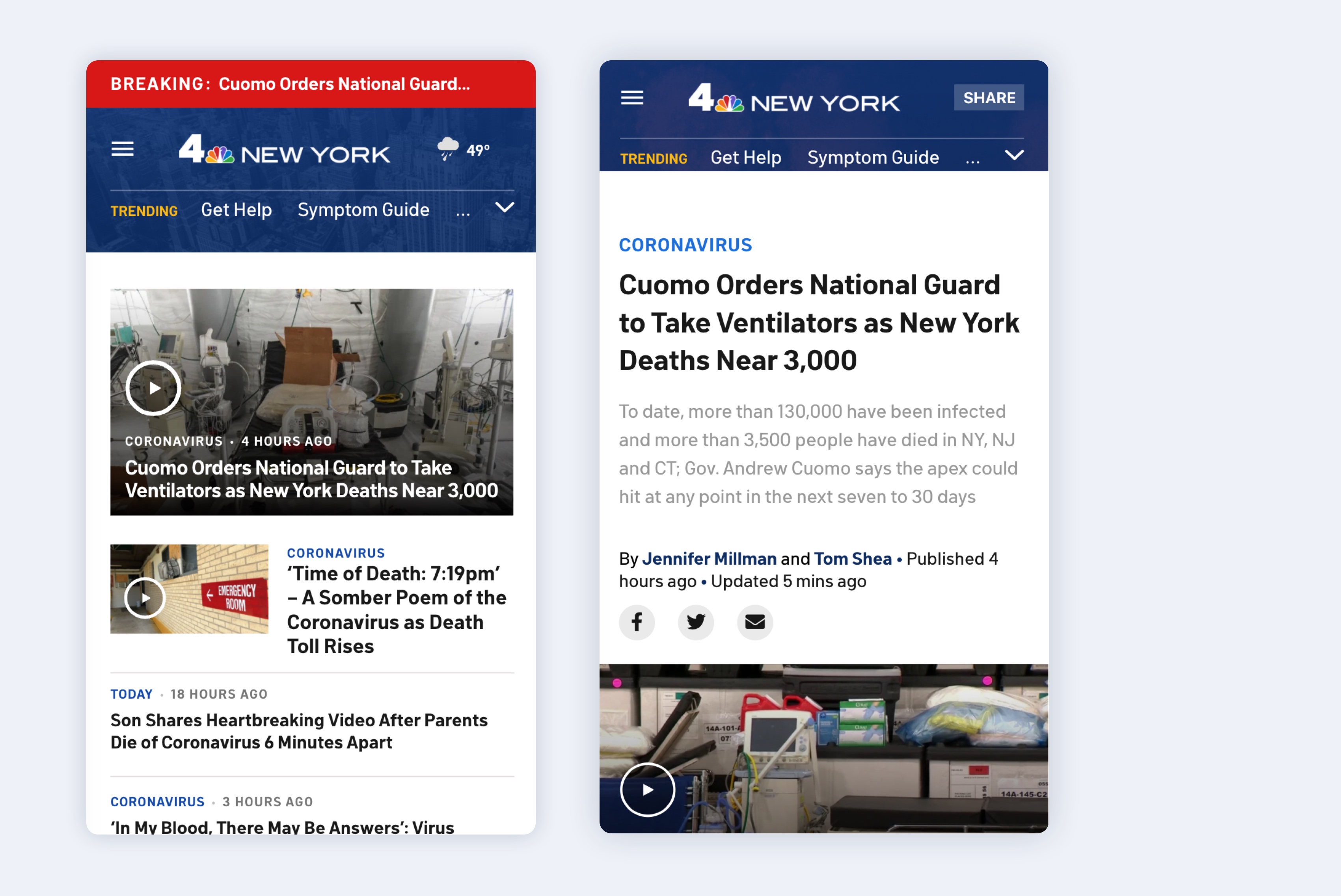 The Solution
In the hypercompetitive news market, fast load times are critical for acquiring and retaining visitors. While implementing the redesign, we focused on delivering an engaging experience for audiences without sacrificing site speed. The results have been remarkable. NBCUniversal has recorded record-breaking metrics in site speed, SEO, and search-driven traffic.
The platform also includes new tools that allow teams to create landing pages with flexible layouts, giving them the ability to curate collections of content in an interesting and innovative way while keeping styling consistent. Automated business logic keeps these pages fresh.
Syndication was of central importance to this project. Newsrooms across the country need to syndicate breaking news to multiple outlets without delay. We built a custom syndication system that gives editors the tools they need to ensure accountability. Local editors can add localized content that's only delivered to their audiences, keeping the story relevant to their needs. This combination of features gets national news to local audiences in a way that's fast and considerate of their perspectives.
The CMS is also optimized for both English- and Spanish-speaking journalists, who can not only publish content in both languages, but also create and manage that content in an interface that uses their preferred language. Journalists at Telemundo were consulted on translations of key areas of the CMS to ensure that every interface works well for editorial teams and their audiences.
A year ago, we set out to create a new digital experience for our stations and audiences that is flexible, intuitive and fast. Our new CMS workflow is a one-of-a-kind ecosystem that will help more than 1,000 local journalists navigate this digital space with ease. Our new websites are beautiful and set a high bar for the way that local news is presented to both English- and Spanish-language users.

Lora Dennis, Senior Vice President of Digital, NBCUniversal Owned Television Stations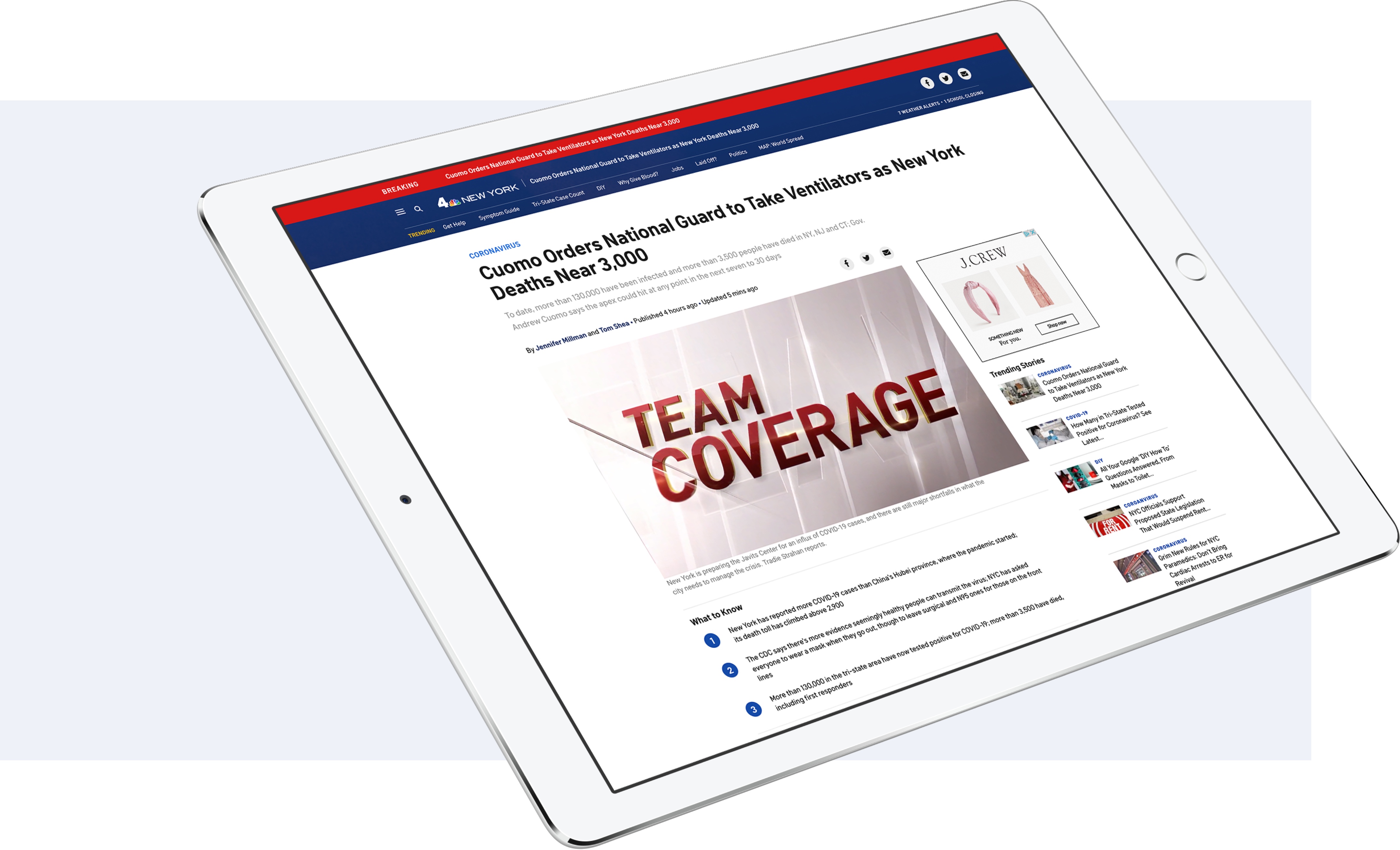 The Results
The WordPress CMS gives local newsrooms the ability to publish breaking news and long-form stories at record speed. More than 1,000 journalists use the CMS to publish stories that rely on fast delivery of video, images, and weather tools. The new platform makes use of the WordPress block editor to dramatically streamline newsrooms' publishing workflow. As NBC Owned Television Stations' Vice President of Digital News Josh Kleinbaum tells us, "You won't find an editor who says they are not happy with the new system and workflow."
The website redesign features a modern, magazine-style look. Website visitors enjoy improved features for breaking news, weather, investigative reporting, live streaming, and digital video.
New feature templates empower journalists to create immersive experiences for long-form stories, helping visitors engage deeply with investigative reports and series. Advertising has been updated as well, to better highlight advertisers' products while improving the experience for visitors.