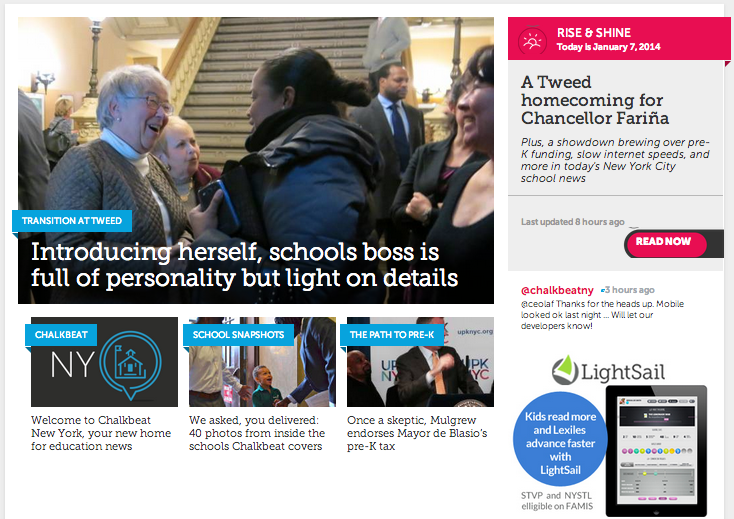 When reporters go the extra mile to expose an issue, how do news organizations ensure that the content and coverage will have the most impact? For Chalkbeat, an exciting new nonprofit news network reporting on educational change, its editorial team needed a site that highlights important stories in the moment, connects readers to sharp reporting and encourages audience engagement.
Today, Alley Interactive launched Chalkbeat's network, including new sites for each of its four bureaus: Chalkbeat New York (formerly GothamSchools), Chalkbeat Colorado (formerly EdNews Colorado), Chalkbeat Indiana and Chalkbeat Tennessee.
Chalkbeat was formed when New York-based non-profit news site GothamSchools merged with EdNews Colorado in 2012. The new organization took on top-notch reporters from around the country to provide in-depth, local reporting on pressing issues in the education space. Chalkbeat strives to be model for nonprofit journalism, and is funded by notable foundations, such as the Bill and Melinda Gates Foundation and Knight Foundation. Chalkbeat's stories are frequently cited in leading outlets, including The Wall Street Journal, The New York Times, and The Washington Post.
Congrats to @elizwgreen and colleagues on the new @Chalkbeat. Great resource on schools in NYC and elsewhere: http://t.co/2jVjQXQGqW.

— Paul Tough (@paultough) January 7, 2014
Chalkbeat's rebuild and launch was led by partner Matt Johnson and managed by Bridget McNulty. Developer Will Gladstone handled developing code and content types for the front and back-end of the site and developers Matt Nadolny and Owen Stowe handled the site's front-end design, ensuring site design responsiveness. Nicole Arnold worked on email newsletter integration and other special features. Matt Boynes provided infrastructure advice and last-minute launch assistance.
The team built a number of interesting new features for the sites, including article highlights (summaries of longer stories), backstory sidebars to provide more context to readers, enlarged photos for visual storytelling, social media share button icons, MailChimp integration and prominent promotion for other sites in the Chalkbeat network.

Managing partner Matt Johnson is also developing MORI (Metrics On Reporting Influence), a new statistical reporting tool and WordPress plugin that enables editors to measure the effectiveness of the site's stories against content production goals, focus areas and audience engagement.
The reporting work of nonprofit journalism institutions must be measured against organizational missions and goals, as well as traffic and financial outcomes. The MORI plugin will provide Chalkbeat with the ability to define goals and measure its organizational success against them on a monthly, yearly and ongoing basis.